STEELHEAD:
Winter Hot Spots
Salmon, Oswego rivers offer great trout fishing opportunities.
While the majority of us here in the Northeast are waiting for the chance to walk on water and do some ice fishing, there are those who are spending some fun-filled hours and days wrestling with rod-bending, double-digit trout. These are those hardy anglers who are not afraid to stand in mid-30-degree waters up to their belts or ride in the front of a drift boat down the rapids with foamy sprays of water and 25mph winds in their face. Where else could this be but in Oswego County, where the lure of the winter steelhead and brown trout fishing on the Salmon and Oswego rivers is irresistible.
Each year at this time, anglers from all over the country head for these two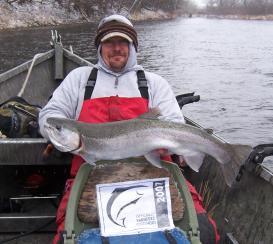 rivers for the opportunity to hook up with one of these trophies that will average anywhere between five and 15 pounds; but there are also those bigger ones that are always a pleasant surprise. You haven't lived until you've stood along the shore or in the water of either of these rivers trying to land a 10-pound, football-shaped brown trout that has no intention of coming to your net without a fight. Or how about the action of a 17-pound steelhead who boils the surface after sucking in your egg sac bait and immediately rips off three-quarters of the line, right down to your reel's backing before you can stop him? I guarantee you that the adrenaline rush that follows the sinking of your hook into either of these fish will quickly make you forget that cold water around your legs and the biting wind chill on your face and fingers.
The two major waters offering the best winter fishing in Oswego County are the Salmon and Oswego rivers. These Lake Ontario tributaries receive over 150,000 yearling steelhead annually from the Department of Environmental Conservation.
The Salmon River, which is used to generate hydroelectric power, usually does not freeze over, and flows all winter. Therefore, it offers plenty of fishing opportunities.
Bordered by Route 13, it flows from Altmar through Pulaski to the mouth at Port Ontario, which offers almost 12 miles of public fishing on both sides of the river. Public access to the popular shore fishing sites are well marked, and generally, all have good parking areas. These areas include the long flat below the Pineville Bridge, the Trestle Hole, the Schoolhouse Hole in Altmar and the lower fly-fishing-only area which is upstream from the Route 48 bridge in Altmar.
Year after year, these areas produce good winter fishing, but there are other areas, as well. What you should be looking for, in terms of where the fish lie, is the deeper, slow-flowing waters, which is where they will be when the water temperature drops below 40 degrees. And right now, it is in the low 30s.
The steelhead section of the Oswego River flows right through the city of Oswego, which is about 45 miles north of Syracuse via routes 481 and 57. Once in Oswego, you will not have any trouble finding the river. The city has spent a considerable amount of money on its riverfront (Linear Park) that offers plenty of cement walkways with iron railings that run the entire west side of the river from the harbor to the power plant. This is an ideal spot for the shore angler to set up and fish. And there is plenty of parking nearby. This wall is about six feet above the water surface, so a long-handled net is recommended. And don't forget, big fish require big nets.
My favorite way to fish these two great rivers in the winter is from the front seat of a drift boat skillfully maneuvered through the rapids by a licensed fishing guide.
Drift boat fishing didn't really become popular on the East Coast until the 1980s, but it has been growing in popularity every year.
These boats are built to ride in the water and respond quickly with just a slight pull on the oar. Your first ride in a drift boat will be a true adventure, and once you see how well they are handled by the guides, you will see their advantage over fishing from the shore. Not only can the boat be held so you can fish a particular area or pool, but it allows you to fish waters not reachable by the shore angler. Also, you will cover considerably more water. And for your comfort, most of these drift boats are equipped with propane headers in the bow. Average cost for a seven-hour trip in a drift boat for two anglers is $300.
Now although there is plenty of free public fishing, the Douglaston Salmon Run controls a 2.5-mile stretch of the Salmon River where up to 350 anglers can pay a daily fee of $25 to fish. Children 15 years and younger fish free with a paying adult, and winter/spring passes are avail- able. They also have a two-story restored farm house lodge that can accommodate anglers. For further details, go to the Web page at douglastonsalmonrun. corn or call (315) 298-6672.
DRESS WARM
Whether fishing from shore or from a drift boat or simply wading, not only do you need to be prepared in terms of your clothing, but also always wear a personal flotation device.
Layering your clothes works well. Start with a good set of thermal underwear, and build from there.
For your head, start with a good, warm hat, and your coat should be warm, waterproof and hooded. After trying many different gloves, I found that the Ice Armor by the Clam Corporation are very good. And lastly, I found that the best thing to always wear for this type of fishing is a pair of 5mm neoprene chest waders. These are great for wading in and out of the water, as well as in and out of a drift boat.
SAFETY
For those of you that will be wading, keep it to a minimum. Those icy, moving waters are your fooling with. One wrong step and you could lose your footing and be in some serious trouble. That is why you should forget about using the felts on your waders for traction. They will ice up and pack with snow. For the best footing, use corkers or spikes on your boots; and wear polarized sunglasses to help you see into the water and protect your eyes from the glare of the sun.
FISHING TIPS
When wading, drifting an egg sac along the bottom natural is highly productive. For clear water, use eggs wrapped in blue or pink mesh. Most of the local tackle shops near the water have these already wrapped and ready to use.
Fish these baits on a soft action nine to 10-foot rod with a smooth drag reel spooled with at least 200 yards of six to l0-pound test monofilament. For some real use a noodle rod. Tie on a four to six-pound test leader with a No. 4 or 6 hook with the egg sac to the end of the main line.
Next, using a separate piece of monofilament, attach a dropper line with either a pencil lead, split shot or a slinky at the junction of the main line and the leader. A slinky is a series of BBs sealed in a piece of parachute cord which allows for a quiet presentation for finicky wintertime steelhead. A slinky can also be purchased at any of the local bait shops near the rivers. Be sure to adjust your weights so that the egg sac is just touching the bottom as it drifts.
Quite often, the steelhead bite I is very light and may not be detected, especially when wearing heavy gloves. One way to avoid missing bites is to become a line watcher. At the slightest twitch of the line or pause in the drift, set the hook. To make line watching a little easier, use a high-visibility line for drift fishing.
For the most current fishing conditions on the Oswego ar Salmon rivers as well as information on accommodations, and tackle dealers and drift boat guides, go to the SalmonRiverGuide.com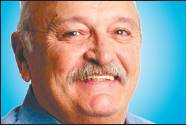 Ed Noonan
OUTDOOR JOURNAL
Reach Gazette outdoors columnist Ed Noonan at enoonan@nycap.rr.com
Please feel free to give me a call for an honest fishing report or more info on how to book a trip.
Shane Thomas
(315) 298-4530